The Evolution of Thermal Kinetic Energizer Heat Transfer Technology (TKE-HTT)
Thursday, November 17th, 2022
Steel is a heat-intensive industry. It requires heating metals using enormous quantities of energy and manipulating them to create metal ingots and castings of various shapes and sizes for any number of applications. Be it producing steel from iron or melting steel for molds, there is a heavy reliance on heating systems that facilitate the reshaping of different metals.
While many technological processes involved in the manufacturing and manipulation of steel have improved over time, one of the most critical systems that hasn't changed much since the industrial revolution is the burner system.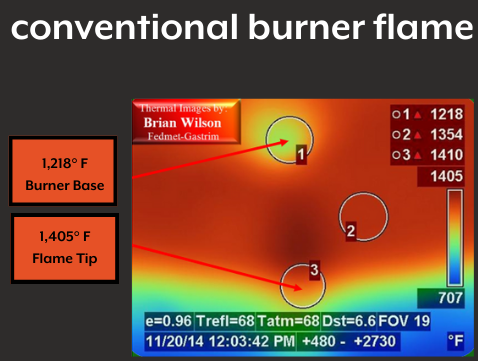 A typical burning system features an oxidizer that aids in converting the chemical energy from the fuel into thermal energy. Depending upon the type of heating system, there can be a single burner or multiple burners, which are essential components of a furnace. The burner takes in the fuel, and the oxidizer facilitates the burning of the fuel to generate an optimal form of flame.
Many different types of burner designs are available to work with different types of fuels and oxidizers. Moreover, different burners are also designed to comply with various environmental regulations and heat transfer requirements.
Over the last few decades, there have been changes in the traditional designs of burners primarily because of the recent environmental concerns. While burner designers used to focus more on the efficient burning of fuel and heat transfer, today, there is a rising concern about controlling pollutant emissions that are generated from fuel burning.
Keeping in mind the needs of the industry for an efficient burning system while taking care of the rising environmental concerns, Gastrim International designed the Thermal Kinetic Energizer-Heat Transfer Technology™ (TKE-HTT™), which is a game-changer in the steel industry. FRC Global is the exclusive distributor of this exciting technology in the Americas.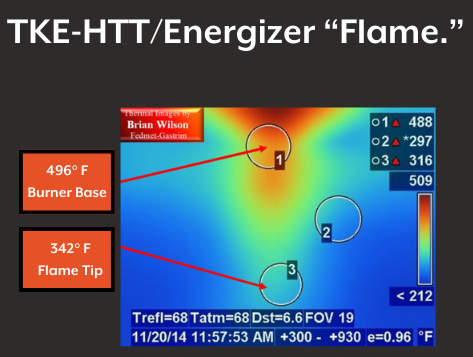 Thermal Kinetic Energizer-Heat Transfer Technology™ (TKE-HTT™)
TKE-HTT™ is a revolutionary cost-saving technological step ahead in how a combustion system operates. The system is designed to improve the heating system's efficiency while reducing environmentally-damaging components. The combustion system relies on the highly efficient use of kinetic heating that requires the use of lesser fuel and results in better and more efficient heating.
But how does the Thermal Kinetic Energizer-Heat Transfer Technology™ actually work? Let's take a closer look to understand the features of TKE-HTT™ so you can better understand how the technology is actually helping the steel industry today.
Relies on Lesser Amount of Raw Material
One of the most important features of TKE-HTT™ that distinguishes it from traditional heating systems is its reliance on a lesser amount of raw materials compared to conventional gas heating systems. TKE-HTT™ uses an insignificant amount of natural gas to produce power with a stream of molecules traveling at 220 meters per second, which results in the transfer of kinetic energy to heat energy. Moreover, the transfer of energy produces uniform heat within the heat exchange system or vessel while reducing the potentially dangerous emissions that are associated with a conventional burning system.
Allows You to Replace Traditional Burners With Little Loss of Production
The TKE-HTT™ system allows you to replace traditional burners. However, the process of switching from traditional burners to a TKE-HTT™ system doesn't mean you need to halt the production process for many days. Instead, you can replace your existing heating system with the TKE-HTT™ system with minimal disruption in the production process.
As a result, when you invest in the TKE-HTT™ system, you end up with a better heating system without compromising your production process' efficiency.
Moreover, the TKE-HTT™ system may be mounted in any direction or angle in the preheater or furnace, which ensures great conformity to your existing systems that also contribute to minimizing disruption during the installation process.
TKE-HTT™ System is An Easy to Learn Technology That Helps Reduce Cost
The TKE-HTT™ system is an easy-to-learn technology that helps minimize training costs. You may need to invest in the system and have to train your employees about its usage. However, the training doesn't need to be extensive.
Moreover, the system operates at low gas pressure, which makes it a cost-effective solution for your organization.
Furthermore, the control system of the TKE-HTT™ system is easy to maintain, and you don't have to heavily invest in the maintenance of the system.
The TKE-HTT™ system developed by Gastrim International has come a long way, but there is still a lot more to go. If you are planning to switch your combustion system to a more environmentally friendly alternative, get in touch with FRC Global today.